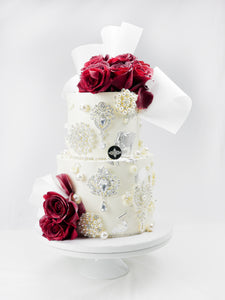 Celebrate with a signature two or three-tier wedding cake by Chef YiVY. Please detail your theme in the box provided. We will do our best to accommodate your request.
DETAILS:
Two-tier cakes are 6' & 8' rounds. Three-cakes cakes are 6', 8' & 10' rounds.
Please note the images shown on this page may not be reflective of the cake size you are ordering, and decorations will be amended accordingly. Please refer to our size and portion guide to select appropriately, or if unsure, contact us so that we may discuss your requirements directly with you.

Dietary & Allergen Advice:
Contains GLUTEN(WHEAT), EGG, and DAIRY. All our products are made in an environment that handles NUTS, and SOY. 
SHIPPING: Please order your cake at least 2-weeks in advance for on-time delivery. Delivery only available to Chicagoland residents within a 30 mile radius from 60616.